Finding the perfect space can seem challenging at first, but have no fear we're here to help! The LiquidSpace platform has a variety of options, so we've written this guide to help you identify what you need, quickly.
Team Desks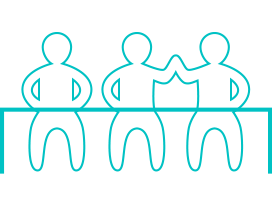 Desks grouped together in a shared space, possibly in a coworking space or filling excess space within another company's office. Team Desks are a great option for companies just getting started and/or on a restricted budget.
Team Office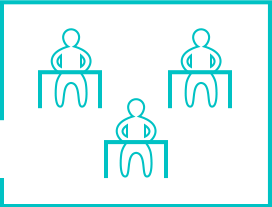 A large private room, fit for a small to midsize team. This could be at a coworking space, directly from a landlord, or within another company's office space. A great place to bring teams together to focus and collaborate. Not so great for growing teams or teams with individuals who need privacy, while on the phone for example.
Office Suite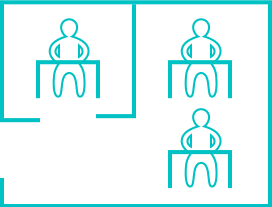 A multi-room, private space for a mid to large team. This could be within a serviced office center, at another company's office, or as a standalone space with its own entrance, reception, and meeting room. The perfect upgrade for a growing team that needs more space to meet and work.
Think you're ready to dive in? Here are some other factors to consider, as you begin your search...
Growth potential - Your growth potential can affect two aspects of your new space, the term and size. If you're set with the team you have for awhile, you might consider committing to a longer term of 1-3 years. Often rent is discounted when you're committed to staying for longer.If you're planning to bring on additional staff in the near future, you'll want to factor in extra space to grow at the space you're looking at now or consider a shorter commitment so that you can easily move into a larger space down the line. Also, keep in mind the type of staff you're planning to hire. For example, if you plan to bring on a new sales team, it might make sense to find a space with private areas for this team to make phones calls without disturbing everyone else. Planning now will make hiring easier down the line.
Amenities - Each team has different priorities when it comes to amenities. Some teams want reception service to answer the phone, greet guests, and help out with administrative tasks. Other teams are just looking for a chill vibe with a kitchen/dining area for lunches (and maybe a keg full of beer for in-house happy hours). It's important to consider your team's preferences, in addition to your own, as you set out on your search.
Location - Cut down on your team's commute by taking into account where everyone lives. Be sure to consider not just the traditional car commute but also proximity to public transportation. Beyond that, you may want to consider where your clients are located or if there are restaurants and entertainment nearby. Your office location will help define your company culture. For example, you most often find tech companies clustered in San Francisco's SoMa District, or financial firms on Wall Street.
Have questions? We're here to help!